The Boks Project is a promotional products/advertising specialty company with over 15 years of experience in the industry. Our network gives us access to over 1 million industry standard products and our direct import/overseas partners make possiblities virtually endless. If you don't see it here, call us.
Printed Material - Signage/Tents/Business Cards
FEATURED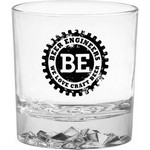 11.5 Oz. Glacier On The Rocks Glass
Add some flare to your order by adding bottom spray component. You can "customize" nearly any glass. Item is shown with optional Jet-Directt™ sidewall imprint. The Jet-Directt™ imprint area: 1 3/8"x3"...