The Boks Project is a promotional products/advertising specialty company with over 15 years of experience in the industry. Our network gives us access to over 1 million industry standard products and our direct import/overseas partners make possiblities virtually endless. If you don't see it here, call us.
Printed Material - Signage/Tents/Business Cards
FEATURED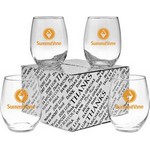 15 Oz. Stemless White Wine Glass Thank Y...
Swirl the wine to release and enjoy the aroma with this set of four 15 Oz. stemless white wine glasses in a "Thank You" gift box. Perfect for Christmas, housewarming party, or any occasion! Full color...